Remanufacturing, recovery & cloning of electronics
If you have a board or equipment that needs to be reproduced, altered or updated, contact us and we will see how we can help you.

With our advanced repair and rebuild resources, your valuable boards, components and systems can be salvaged or get an extended life cycle.

We use both our own resources as well as our partner network to tailor a perfect solution.

Our services can save you huge amounts of money!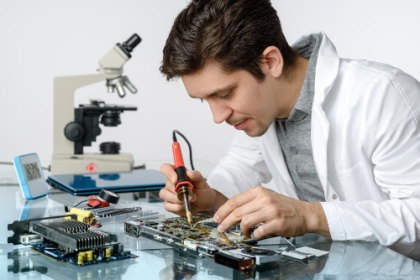 REPAIR AND REMANUFACTURING OF OBSOLETE PARTS
We can help you with repair and remanufacturing of obsolete spare parts for critical technical equipment constructed before the year 2000.

We offer reverse engineering of electronic cards, remanufacture of spare parts (electronic cards, mechanical parts, display screens, power supplies), diagnosis and repair of cards and harnesses.
Don't let valuable components go to landfill or end up on the counterfeit market! We have a total solution for you:
Non-destructive component rescue
Component repair and refresh (Re-balling, alloy conversion, lead repair)
Short term storage
Long term storage
Re-marketing
Recycling
Giving your component a second life is nothing but a win-win-win situation. Make money, secure future repairs and production, take environmental responsibility and prevent black-market trading.
Outdated or faulty electronics can be replaced on system-level and thus extend the total system life cycle. Instead of sometimes buying a completely new machine or control system, the electronics can be brought back to life and add years of extended operation. Some examples are:
Replace CRTs with LCD panels
Replace switches, sensors and actuators
Repair, clone or rebuild computer boards
Modify software
Replace and upgrade power supplies
Replace and repair cable harness and connectors
System repairs and upgrades can be combined with support and service contracts for a trouble-free extended lifetime of your equipment.
One day or another, disaster happens. We can help you with single or batch repair and bug fixes.

We are your neutral partner when the matter is sensitive.
Component bug fix (replace, rework)
Patching
In-circuit test
Functional test
Design verification
State of the art equipment and skilled workforce is your guarantee for fast turnarounds and high quality.
Disclaimer: The servcies described above is for industrial customers only. We don't undertake repairs for the consumer market. Intellectual rights must be verified by the customers before starting a job. Our services are not for making illegal copies, patent or trade mark infrigments or any other unauthorized activites.