Have a look in your stencil printer solvent tank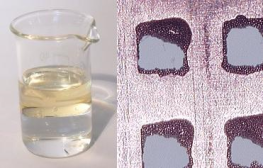 As waterbased cleaning media eliminate the need for flammable solvents within SMT production area they are preferred for cleaning operations. 2-phase waterbased cleaners proof great cleaning results when being used in automatic stencil washers having continuous mixing.

But why to use them in the SMT stencil printer as they quickly separate within the cleaning tank?
Although both phases might tend to clean off solder paste, you might also have recognized a higher tendency of leaving oily drops onto the stencils causing considerably increased solder paste smear and loss of print definition?

During evaluations together with customers, we have seen this many times. The solvent that is designed for the stencil wash machine is also used for the under stencil cleaning process in the SMT printer. The mixture slowly separates in the tank. The result is that you clean the stencil with three different solvents compositions!

When you refill your SMT printer, the solvent is mixed as you just moved around the container. After some time, you will clean with the higher density component only when the liquid separates.

When the printer consumed the bottom layer in the tank, you continue to clean with the lower density portion of the agent.

Don't do this!
It's impossible to get a repeatable result with 2-phase solvents unless you implement a process step to shake the container regularly!

Choose 1-phase waterbased cleaning efficiency combined with improved drying properties and further optimize your printing process - such as Etimol SUC 61 RAN or SUC 63 RAA.

Approved for use within leading equipment!